What Can I Take in My Carry-on?
Carry-on luggage refers to your belongings that may be brought with you into the cabin of an airplane. Airlines and airport security have many restrictions regarding carry-on luggage. You must consider the number of bags, their sizes, weights, and most importantly their contents. We here at IHateTaxis.com also have some tips with respect to your carry-on luggage.
Carry-on Size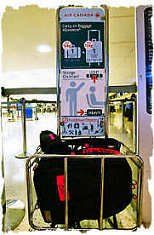 Due to limited room available in the cabin on the airplane, all airlines will limit the number of bags you may bring on board. This limit is usually one bag, although small purses and handbags are usually permitted in addition to this bag. A few smaller airplanes will have more restrictions, simply because there is limited room for anything larger than a purse. Some airlines allow their business and first class passengers a greater number of carry-on bags. Regardless, it is always important to check the limitations with the specific airline you are flying.
For most airlines, the dimensions of the carry-on luggage must not exceed 45 linear inches or 114 linear cm (this is the luggage's height + depth + width) and its weight must not exceed 40 lbs or 18 Kg. The check-in area at most airports have a scale and measuring tools to ensure that your bag is the appropriate size to be carried on board. Once again, we strongly recommend that you confirm the maximum allowable size of your carry-on luggage before arriving at the airport to prevent having to re-pack at the check-in counter.
Things to Pack in Your Carry-on
Carry-on luggage restrictions are much greater than checked luggage, so we at IHateTaxis.com have our recommended list of things you should consider packing in your carry-on. One way to think about your carry-on is "what items are absolutely essential should my checked luggage be lost". Our suggested list includes:
Wallet or purse (with credit cards, bank cards, cash, travellers cheques/checks)
Passport
All medications (prescriptions or otherwise) and medical supplies
Glasses (in hard-cover case)
Highly-valued items (camera, laptop, music player, phone, etc)
Jewelry (note that some high valued gems and stones may require proof of ownership if travelling across borders)
Snacks (note that some food types may not travel across borders. For example meat, fresh fruit and veggies, and some dairy products)
Baby Supplies (bottles1, diapers and wipes, a toy, pacifier, change of clothes, etc)
Change of clothing (consider the climate at your destination when packing spare clothing)
Toiletries (toothbrush, toothpaste1, floss, brush/comb, make-up1, hygiene products1, perfume1)
Child/Infant Car seat (may be permitted if you have purchased a seat for your child)
Empty water bottle2
All required documents (paper or etickets for travel, visas, hotel confirmations, travel insurance, etc)




1 All liquid or gel products should be packed in a clear 1 L bag for inspection and in many locations this bag must be removed and scanned separately from your carry-on at the security point. Sandwich-sized Zip-Loc bags are perfect for this and some airports will provide a bag upon request at the ticket counter or security checkpoint. The bag must seal shut and no individual product inside the bag may exceed 3.4 fluid oz or 100 mL. You are permitted only one 1 L bag per person. Baby items (formula and milk) are often exempt from this rule, although rules do vary between countries.




2 Water bottles are allowed on board, provided they do not contain fluid when you go through the security check. By carrying an empty water bottle and refilling (should a water source be available) after security will enable you to stay more hydrated during your trip. Commercially sealed water bottles purchased before security are NOT allowed, unless you empty them first.

Carry-on Items Prohibited
Do not pack any of the following in your carry-on as they will likely be confiscated by security. Some of these items may be placed in your checked luggage and some cannot travel by commercial air. Carefully consider why you would need any of these items at your final destination or if they may be obtained when you arrive.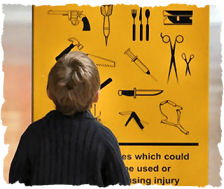 Firearms (pistols, flare guns, rifles, BB guns, toy guns, paintball guns) and ammunition
Knives (including jack-knives, scissors3, swords)
Weapons (including replicas)
Tools (power tools and most hand tools3)
Greater than 100 mL of any fluid or gel (baby supplies are often exempt from this rule, provided you are travelling with a baby)
Select toiletry items (razors, metal nail files, or any items with a sharp or pointed edge3)
Explosive materials
Sporting goods (hockey sticks, baseball bats, skates, surf boards)
Gases4
Pressurized containers (e.g., hair spray bottles, shaving cream, spray paint)
Matches (usually one package of safety matches or one standard lighter is permitted, but rules do vary)
Poisons (e.g., fertilizers and other toxic materials)
Infectious material (laboratory specimens)
Fiberglass resins
Peroxides
Radioactive materials
Strong magnetic materials
Corrosives (e.g., drycleaners, car batteries, acids, alkalis, lye, mercury)
More than 4 lbs or 1.8 Kg of dry ice
3 Note that some countries and airports do allow small nail files, scissors under 4 inches or 10 cm blade length, and smaller tools (screwdrivers, etc). But we strongly recommend packing these in your checked luggage to avoid problems unless you will absolutely need them during your flight.
4 If you require oxygen during the flight, this should be discussed with your airline well in advance as rules and regulations vary. Note that containers that have contained gases or flammable liquids (e.g., camping fuel bottles) are not allowed due to residues.
Please note that the above list is a simplified version derived from multiple government and airport websites and is not complete. Rules and regulations may differ between countries and even between airports within the same country.
Duty-Free Purchases
Duty-free purchases are popular among airports, ship ports and border crossings as local taxes and duties are not applicable. When making purchases at these retailers, consider what is permitted on the airplane and that duty and tax you avoided paying may still be applicable at your destination. Many travellers that have made duty free purchases have lost them at security in the same airport due to restrictions of carry-on luggage.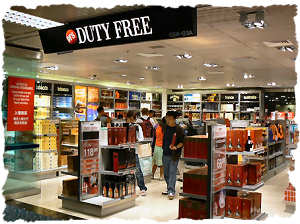 Rules regarding dangerous goods are still applicable on duty-free purchases, so do not purchase any items from the restricted carry-on luggage list. Fluid, including alcohol, is an item which rules differ from country-to-country. Countries outside of the United States and Canada usually permit duty-free purchases (including fluids). If the retailer is located outside the security check point then your purchases will be delivered to you after the security check point in a secured package to ensure that your purchase has not been tampered with.
The United States differs with their rules regarding duty-free. Specifically, they still prohibit fluids on board exceeding 100 mL. The only exception is if it the last leg of multi-leg flight or a non-stop flight, thus preventing your purchases from ever leaving a secured area before reaching your destination.
If you have a connecting flight and will be required to re-enter security (very typical after going through immigration), the fluid you are carrying is subject to the 100 mL rule, so unless you have a small bottle of perfume, you will likely have your bottle confiscated. Note that some countries do not require connecting passengers to go through immigration, but still require a re-screening and security checkpoint where the fluid rule applies (e.g., Japan).
Since the last thing any traveller wants is to lose is their duty-free purchase, be sure to contact your airline prior to travel with any questions you may have regarding specific security rules during your trip.
Animals
Rules regarding pets carried by air vary by airline. Some airlines allow a total limited number of small animals as carry-on for specific flights, provided they remain in a carrying case that will fit under the seat in front of you (generally this limits to small dogs, cats, rabbits, and some rodents) whereas others will only carry pets as cargo. Some airlines do not carry pets during peak periods or where your pet may be exposed to hot or cold temperatures for extended periods. Inquire with your airline regarding their specific pet policy and remember if you are travelling internationally that you will likely need proof of shots for dogs and cats.
Service animals may be carried in the airplane cabin, but your airline should be contacted well ahead of time for this arrangement and proof of service status will be required.

Security Check Point Tips
We at IHateTaxis.com also have a number of tips for making the security check-point as stress-free and as quick as possible. But we are also amazed at how many people are not organized at the security checkpoint, causing delays for all travellers. Consider the following when going through airport security:
Prior to entering the line or while in line:
Check your checked luggage first, only have your carry-on with you
Have your boarding pass for the first leg of your trip ready for inspection
Have your passport ready for inspection, open to the photo page (hint: place the boarding pass inside your passport on the photo page)
Empty all water bottles and dispose of any other drink containers
Place your 1 L transparent Zip-Loc bag containing fluids or gels at the top of your carry-on for easy removal
Be prepared to remove your laptop computer
Take off your jacket
Remove any metal objects and place them in your carry-on (watches, belts, coins, keys)
Check all pockets for any other objects and remove them and place them in your carry-on
Watch to see what security is asking people to do so you are prepared (e.g., removing shoes, laptops checked separately, etc) when you get to the front of the line
At the security check-point: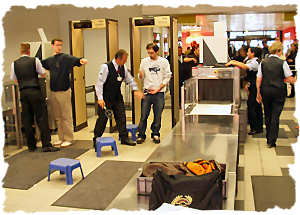 If bins or trays are used, place your jacket in one tray. Usually your 1 L Zip-Loc bag may be placed on top of your jacket or in the corner of the same tray
Place your laptop in a separate tray
If shoes are to be removed, place these in their own tray
Try to avoid pushing your items onto the conveyor belt until it is your turn to walk through the scanner. This is to reduce the risk of items being stolen at the other end of the conveyor belt when they are out of your sight.
Walk through the scanner when you are directed
After the check-point:
Occasionally laptops are swabbed for explosive materials. Security will take your boarding pass from you while they check your laptop. You may be required to open the laptop.
Ensure that you have all your items
Put back on your shoes, jacket, belt, watch, etc
Once again ensure that you have everything with you. Due to the stress of the security check point, travellers often forget an item, including their passport or boarding pass.






Written by Steve Romaine







Next:
What Can I Take in my Checked Luggage?
Introduction:
What Can I Take on the Plane?