London Heathrow Trains
The Heathrow Express may be the fastest rail connection with the centre of London, but it is by no means the only train service running from Heathrow Airport. The other choices include three Underground stations for access to different areas of the city, and Heathrow Connect which links the airport with local stations in west London.

Heathrow Express
For more information about this express service between Heathrow and Paddington Station, please see our dedicated
London Heathrow Express
page.
The London Underground
This is the most affordable train service from Heathrow Airport to the city. Even at off-peak times trains run every 10 minutes or so and the journey into the capital takes around an hour. Heathrow train stations are located between terminals 1 and 3, at terminal 4 and at terminal 5 and all are in Zone 6 of the Underground routes.
You can either buy a single fare, which is GBP 4 to central London, or buy a travel pass which also allows access to the bus and surface rail services. Before you travel work out which line you need to be on and going in which direction as it can get a bit complicated if you are unsure where you need to be.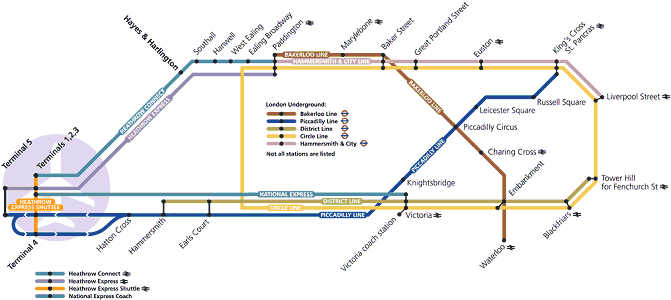 Heathrow Connect
From the Central Heathrow Station you can catch the Heathrow Connect service which takes about 25 minutes to Paddington Station from the airport. Trains run every 30 minutes and stop at the following stations:
Hayes & Harlington
Southall
Hanwell
West Ealing
Ealing Broadway
London Paddington
Written by
Todd Romaine