Being one of the largest airports in the world, Heathrow Airport service has covered every conceivable bus and coach option to ensure stress free and reliable transport from the airport to destinations all over the UK.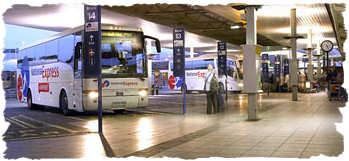 The following options are available:
Coaches
Local bus service
Bus service to rail stations
Hotel buses
Group travel by coach
For more information on these choices, please see the
shuttle
and
bus
sections on the IHateTaxis.com Heathrow Airport destination pages.

Considerations for Heathrow Airport coach & bus Transportation
Child Seats
Most coaches and mini buses are equipped with seatbelts but child seats are not provided, so in the interests of child safety you could bring your own, hire or buy one when you arrive. Public buses are not equipped with safety belts and it is up to you to ensure your child's safety while travelling on public transport.
Final Destination
Unless you are travelling on a shared ride shuttle bus or a hotel shuttle bus, you are going to have to find a way to get from the bus stop or bus station to your final destination. It is always a good idea to have this last bit of transport planned as you are likely to be tired by this stage of your journey.
Luggage
While the big coaches have plenty of luggage space, travellers with a lot of luggage will battle to use the public bus transport system. Not to mention that lugging heavy baggage on and off the buses until you reach your destination does not constitute stress free travel, and you would be better off choosing another transport option in this case!
Heathrow bus and coach services cover London as well as linking up to the rest of the UK making for a good stress free and affordable transport option.
Written by
Todd Romaine